Poll
Which is your favourite game from USC game list?
America's Army 3

0%

[ 0 ]

Battlefield 2

20%

[ 2 ]

Combat Arms

0%

[ 0 ]

Counter Strike: Source

40%

[ 4 ]

Crysis Wars

0%

[ 0 ]

Team Fortress 2

30%

[ 3 ]

None of the above, you really suck!

10%

[ 1 ]
Total Votes : 10
July 2020
Mon
Tue
Wed
Thu
Fri
Sat
Sun

1

2

3

4

5

6

7

8

9

10

11

12

13

14

15

16

17

18

19

20

21

22

23

24

25

26

27

28

29

30

31

Calendar
UK USC SERVER ALOMST READY!
Wed Sep 23, 2009 2:57 pm by WarLokk1980
Hey clanmates!

Got some great news fror everyone!

I've almost built a server PC which I can use for certain clan duties such as hosting games (that have dedicated server tools) for everyone to play! I've managed to get most of the components together which include a Biostar motherboard, an AMD Ahlon 64 X2 4400+ CPU, 2 GB RAM (will be expanded to 4 GB later on) and other left over parts I've …

[ Full reading ]
Comments: 9
.com Names
Thu Sep 17, 2009 8:12 pm by rclaxx14
Hey guys, I just wanted to let you know that I'm going to be registering us for a .com name on our site. So I need .com name suggestions. I have one, it's www.uscforever.com. What are your thoughts/suggestions?


Comments: 9
First Server Is Up!!!!
Fri Sep 11, 2009 5:27 pm by rclaxx14
That's right boys I got us a server. It's a COD4 only server and we have rights to it under certain conditions. It's another clan's server, an ally of our, AAE (www.aae.enjin.com). They're allowing us to play and advertise on their server and me to administrate it. All they want is for us to populate it, so please do it. If we can do that simple task, they're guaranteeing us another, bigger …

[ Full reading ]
Comments: 5
Chat room added
Sat Sep 12, 2009 1:03 pm by rclaxx14
There's now a chat room at the bottom of the homepage. Feedback please :p.


Comments: 0
We need members. Now.
Mon Sep 07, 2009 10:08 pm by rclaxx14
Seriously guys we have almost everything a professional clan has, we need to recruit like never before. I've gotten some new people to join but we need to get to at least 30-50 members.

My advice for recruiting is to do it in-game, it's a lot more effective that way.

Don't forget, use the shortened URLs for our sites, listed below:

www.usc.us.tc
www.uprisingsoldiers.tk
…

[ Full reading ]
Comments: 4
New Ranks (9/2/09)
Wed Sep 02, 2009 8:05 pm by rclaxx14
Here's a quick overview of the new ranks.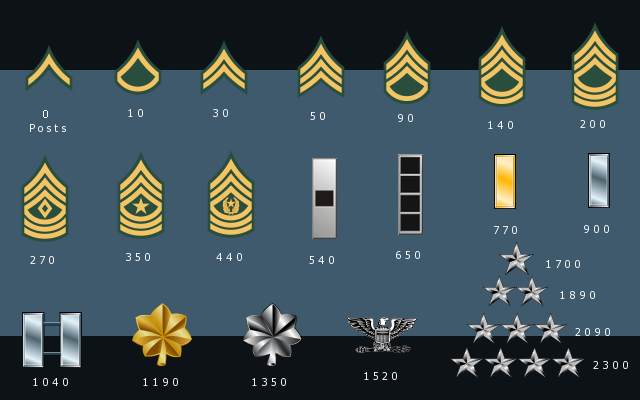 Comments: 3
Things to watch for - 8/31/09
Sun Aug 30, 2009 11:58 pm by rclaxx14
Just a couple of things you guys should keep your eyes open for.

1) New members
2) Board graphic changes (ranks, buttons, etc...)
3) A new addition to the games list
4) Our own server in the not too far future

As always, keep recruiting, we need to be recruiting 100% of the time.


Comments: 3
Section 8 Event on September 19th @ 22:00 GMT
Fri Aug 28, 2009 7:55 pm by WarLokk1980
Yes guys (and girls if there's any?) I'll be holding an event on 19th September @ 22:00hrs Grenwich Mean Time. Just look out for a game hosted by WarLokk1980 and join. Hopefully there should be plenty people there so to ensure you have a place, add me to your friends list in GFWL (the in game messaging system). I believe the game handles up to 32 people so there shouldn't be a problem. The game …

[ Full reading ]
Comments: 0
Who is online?
In total there are 2 users online :: 0 Registered, 0 Hidden and 2 Guests

None

Most users ever online was 31 on Tue Mar 05, 2019 8:46 am

Statistics
We have 17 registered users
The newest registered user is rhyaestyv

Our users have posted a total of 533 messages in 98 subjects